By Hamidah Glasgow | October 25, 2018
Rafael Soldi is a Peruvian­-born, Seattle-based artist and curator. He holds a BFA in Photography & Curatorial Studies from the Maryland Institute College of Art. He has exhibited internationally at the Frye Art Museum, American University Museum, Griffin Museum of Photography, ClampArt, Greg Kucera Gallery, G. Gibson Gallery, Connersmith, PCNW, and Vértice Galería, among others. Rafael is a 2012 Magenta Foundation Award Winner, and recipient of the 2014 Puffin Foundation grant, 2015 Portable Works Cultural Perspectives Purchase Grant, 2016 smART Ventures grant, 2016 Jini Dellaccio GAP grant, 2017 CityArtist Projects Grant, and a 2017 4Culture Arts Projects Grant. He has been awarded residencies at the Vermont Studio Center, PICTURE BERLIN, and Oxbow Space.
His work is in the permanent collections of the Tacoma Art Museum, Frye Art Museum, and the King County Public Art Collection. He has been published in PDN, Dwell, Hello Mr, Metropolis, GRAY, LUXE, Lagom, among others. His work has been reviewed in The Seattle Times, The Boston Globe, and PDN, among others. Rafael is the co-founder of FOUND, a space for contemporary art in Seattle, and the Strange Fire Collective, a project dedicated to highlighting work made by women, people of color, and queer and trans artists.
Hamidah Glasgow: I'm wondering about your general practice and approach to your art.
Rafael Soldi: As far as my approach to my art and practice, I am a very intuitive maker. I don't plan projects in a linear way. I almost never know what I'm going to do next, or what a project might look like in the end. I work from the heart and always look inward to pull from personal experiences and narratives—I've never been able to work in a documentary kind of way. Lately I've tried to be more conscious that my internal explorations are considerate of the world around me, so the work doesn't become very self-centered. I've been trying to ask questions that address how my experiences reflect those of the world around me. Specially now, as I am investigating concerns around immigration, I feel like I can't make this work with exclusively an inward look—this is a shared and universal experience. Beyond an intuitive and emotional way of making work, I am also hyper focused on craft. I am not much of a maker myself, I don't enjoy process or learning new techniques, but I love collaborating with other makers who are masters of their craft in creating something unique and of the highest quality. I know my strengths and I'm comfortable directing my ideas into life.
HG: How has this collaboration worked in the past? Please elaborate on one or more of these collaborations.
RS: For example, printing is not really an enjoyable experience for me. When I began making black photographs in Life Stand Still Here I suffered greatly trying to make my own prints, they were a real challenge. I started resenting my work very quickly. I then found a printer who considered these prints a "fun challenge" and did—and continues to do—an incredible job bringing these to life. This was a big step in realizing that I am not a process-driven person, and that I have so much respect for those who master and enjoy their craft. I value my time greatly, and know that it is better spent on other endeavors that I enjoy, or jobs that allow me to pay wonderful people to help me. I am currently working on some bronze casting sculptures, and working with a very talented metalsmith and sculptor named Eva Funderburgh. I'm also in the process of assembling a crew for some new video work, and collaborating with a printmaker on applying a spot varnish on some new works. Lastly my framer is a saint.
HG: This approach to art making takes us away from the expected and allows us to enter a paradigm where the artist is the maker through collaboration and concept. So often we think about the artist as the only person involved in the creation of the work. This method takes us away from the idea of the genius and leads us into an understanding of the underpinnings of the creative nature of humanity. Would you agree?
RS: Absolutely. Nothing is created in a vacuum. I feel strongly the owner of all my works, even if my hand never touched it in the process of making it. I will say, though, that I've learned it's important to set those boundaries from the outset as you enter a collaboration. Is this your work, and you're hiring someone to help you execute it? Or are you planning to share ownership? Either way, laying out those intensions at the outset is crucial so everyone's on the same page. In the occasions when I rely on others to assist on executing a concept with me, I always respect their time, pay them fairly, and treat them with dignity. This is basic acceptable human behavior, but artists are taken advantage every day, and no one should work for free. Additionally, I am always transparent about my process, and credit others when appropriate.
HG: For you, what is the essence of a true collaboration?
RS: I've been collaborating on curatorial projects for a long time, including launching this very platform, Strange Fire. Collaboration has taught me discipline on many levels. For one, you have more than yourself to consider, so timeliness, responsiveness, and consideration are crucial. A natural benefit of collaboration is the opportunity to do something differently because there is another voice in the room. I have strong convictions and frankly, listening to others is something I consciously work hard at—it doesn't come naturally to me and I've learned to be an active listener by putting in the work. Collaboration has taught me to better gauge when to let go and when to fight for my convictions. I've learned to ask myself, do I like this idea because it's mine, or because I feel strongly that it will make a difference / it is the morally correct thing to do? I never thought that ceding to someone else's idea would actually feel so liberating. It's so hard to let go at first, but once I do and I realize that listening to others did lead to a better solution… that feeling is awesome. Creating something together is so rewarding.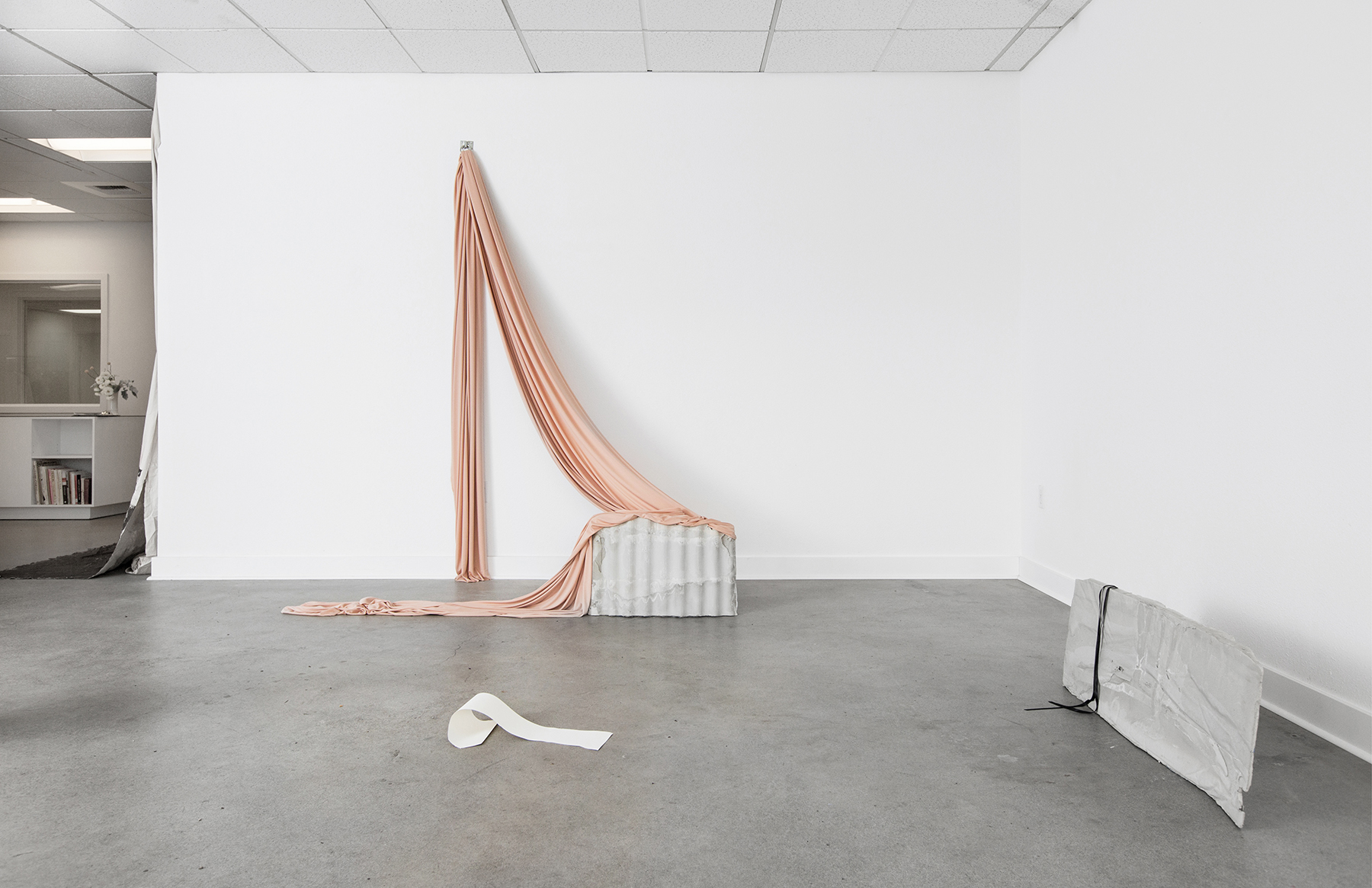 Above: Curatorial projects and collaborations
HG: I love this answer and understand collaboration in a different way now. It's truly the way to build community and create powerful works that resonate on a deep level with the power to foster change.
Tell me about the work that you are making regarding immigration?
RS: Immigration is a core part of my identity, and as such, a core theme in my work. Only recently though—perhaps in response to Donald Trump's presidency—has it become a more explicit exploration in my work. Recently I completed a new piece titled Imagined Futures, this 14-ft long installation is comprised of 50 seemingly identical self portraits. This work addresses a timeless concern that is universal to all immigrants. How do we grieve the life we left behind in order to live this one? What do we do with these haunting visions and questions about the lives we left behind? For two years I used analog photo booths to capture the loss of imagined futures, bidding each farewell in a private ritual. Each passport-sized photograph invites an intimate viewing experience, which blurs as one steps away to reflect on the larger grid.The photo booth acts as a picture-making apparatus that contains the entirety of my body, a small stage for a monumental performance both private and public all at once, captured once, one of a kind.
HG: I'd like to hear where our audience can see your work in person now and in the near future. You had an exhibition at ClampArt recently, what else should we know about your upcoming activities?
RS: I'm thrilled to share four concurrent solo exhibitions going up at the same time in the first months of 2019. A solo exhibition at the Burrard Arts Foundation in Vancouver, Canada, will open on January 10th; artist Birthe Piontek will be occupying the second gallery space concurrently. My solo exhibition at The Print Center in Philadelphia opens January 17th, as well as a solo exhibition at Filter Space opening on February 15th and a solo residency at Oxbow in Seattle Jan 1-18th, where I will be rotating existing works, new works, and works in progress throughout that period, as well as staging and testing installations for the other three exhibitions.


HG: Thank you for you time, thoughtful answers, and creative work.